No one wants to work for the rest of their lives. You want to make the most out of your productive years, retire early, and enjoy your money. But this is always easier said than done. In order to retire at 55, you will need to make major investments and earn very good amounts of money. 
But how much exactly do you need? Well, in order to find this out, we sat down with some of the best financial planners to work out the numbers. In this analysis, we actually look at the starting balance a person would need to have in a taxable account when they leave work at 55 to live a better life until the age of 90. 
Based on these calculations, a person who leaves work at the age of 55 will need at least $3.45 million in a taxable investment account on the day they officially retire from work to make $100,000 in annual after-tax income. 
If you think $100,000 is too much and you reduce your target income to around $65,000, then you will need a starting balance of $2.2 million invested once you are off to retirement. As for people who plan to start withdrawing money from their retirement account a little bit later after they retire, the lump sum needed in the taxable account will be relatively smaller.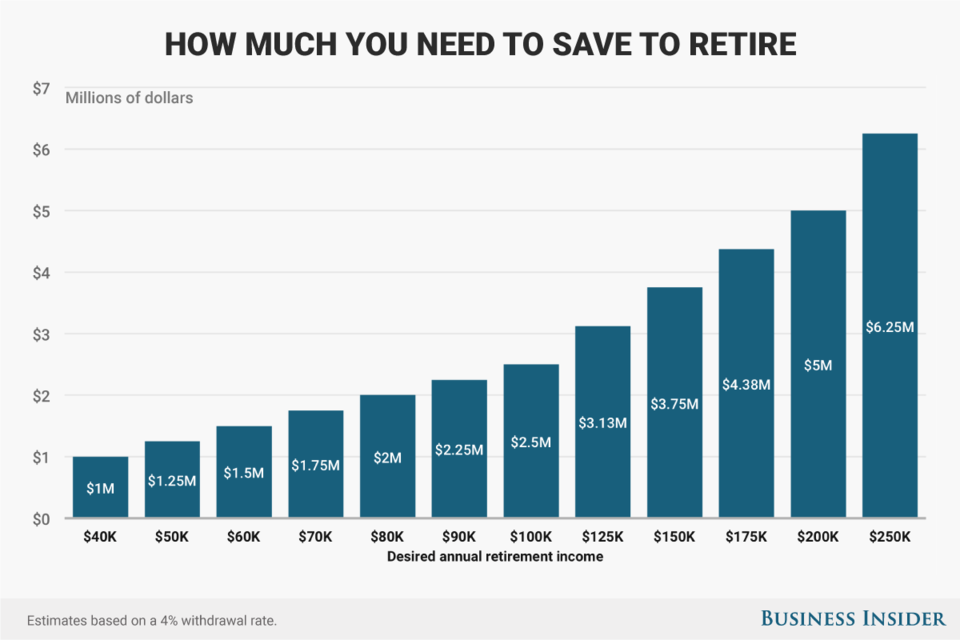 But what if you want to retire early? After all, even though 55 is the average de facto retirement age, some people may want to do it earlier if they can. Well, we have also crunched these numbers for you. If you want to retire at 25, you will need a starting balance of $6 million in your taxable account in order to get at least $100,000 a year in revenue. 
In case you are angling for $65,000 a year in income, $3.8 million in the taxable account should do. But if 25 years is too early of an age to retire, you can still continue to work further. Should you decide to call it quits at 35, you will need a starting balance of $5.2 million in your taxable account to earn $100,000 a year in income. But if you decide to go for a smaller annual income of about $65,000, $3.3 million will be needed in the taxable account. 
The further you push your retirement, the smaller the amount you'll need in the taxable account. For instance, people who decide to retire at 65 years will only need $2.5 million stashed to earn an annual income of $100,000 every year while those who want to get an income of $65,000 will need $1.6 million stashed away. 
It's also important to note that when we are talking about stashing the money in a taxable account, we don't mean a traditional bank account per se. The funds need to be held up in investments. Analysts recommend putting the funds in stocks and bonds. These two are considered growth assets that can help you grow your wealth.