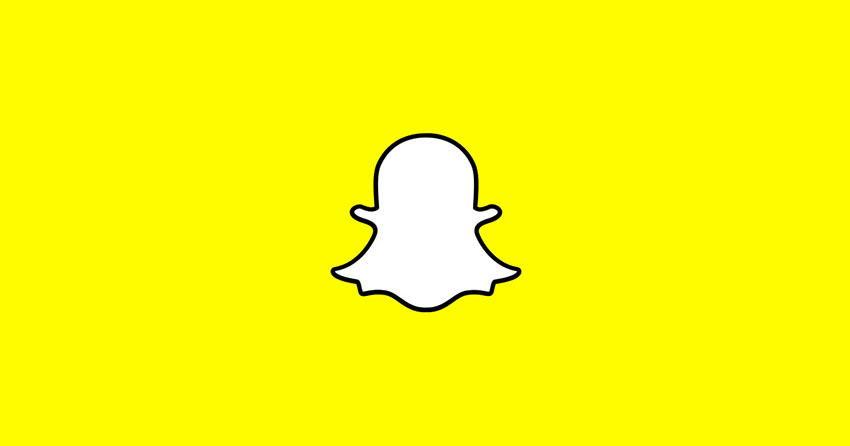 In this article you will find:
How Snapchat went from a social media app to the most expensive tech stock to date
How Facebook tried to compete and later buy Snapchat to no avail until finally posing a threat with Instagram Stories
A closer look at Snapchat's target audience and how advertisers are working to reach them
How Facebook posed a threat after implementing Instagram Stories How Snapchat is changing their UI to compliment their business model and remain relevant
If you should invest on Snapchat
Snapchat had the ideal design for safe chatting in the 21st century - every image, video or text you sent could only be seen for up to 10 seconds and was automatically deleted after viewing.
As the user database grew larger, the app shifted to a more SFW platform where friends could share expirable content in general, later introducing the option to create a short collage of videos and/or images publicly for 24 hours - a function called "Stories" - bringing Snapchat closer to the microblogging on Twitter, but focusing more on video and image rather than text. Since every "story" expired within a day, users naturally felt the need for constant updates.
Even better, the lack of a news feed like most social networks prevented the occasional NSFW content to annoy users who wished to just communicate with friends. Unwanted content could be easily ignored and blocked, with every piece of shared media self-destructing almost immediately.
Marketing experts tried to figure out how to make use of it for ad revenue, but the app didn't allow for much other than its original intended purpose at first.
Snapchat quickly adapted and brands gained their own channel to share offers, promote content, and share live events as Snaps or Stories, but the interface still wasn't ideal to compliment the many marketing possibilities.
This reflects on the way users behave inside the app: a report from Business Insider from February 2016 showed that the majority of users preferred creating their own stories (48%) and video chatting (37%), while only 7% preferred snaps and stories from brands.
The potential was there, but brands had not yet found their proper habitat inside Snapchat. Many updates and new features have been introduced since then, and a new redesign is currently being deployed - the first major redesign since launch.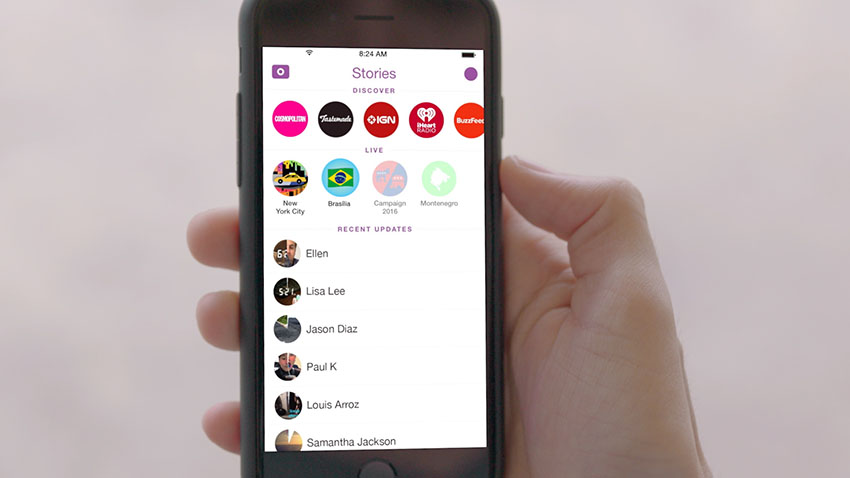 Even with Ads having been implemented successfully into the app, most users (71%) still use it solely for the personal messaging rather than anything else. As of 2016, the most used functions were messaging friends and recording short videos (63%). (Source: Variety)
Nevertheless, the ad revenue in Snapchat was absolutely effective - in 2015, it was estimated that a live-story would reach 20 million users in a 24-hour span, costing around $400,000. (Source: Recode) Logically, competition came around.
Facebook tried competing with Snapchat with an app called Poke, released in 2012 (a year after Snapchat's official release), by unmistakenly copying all of Snapchat's basic features. Snapchat continued to surpass the competitor, and Poke was quietly removed from app stores in 2014. But it wouldn't be the last time Facebook would compete with the Snapchat formula.
Facebook would also attempt to buy Snapchat for US$3 billion dollars in 2013, but Snapchat's CEO, Evan Spiegel refused the offer. (Source: Mashable)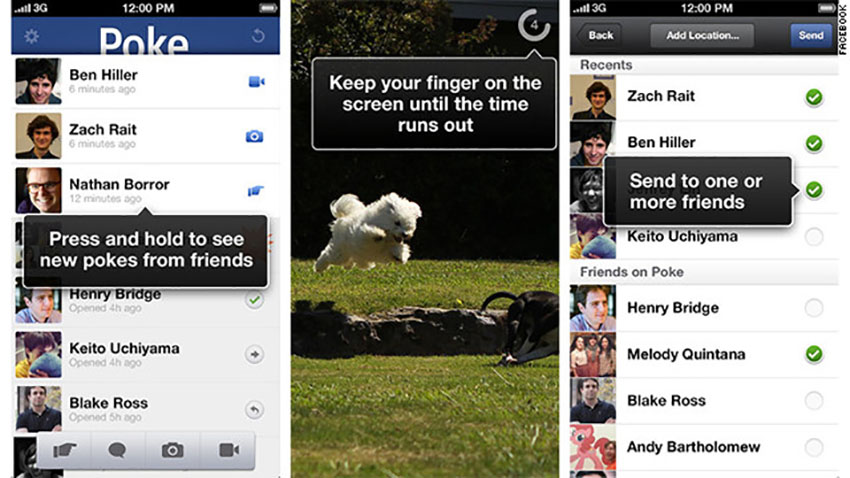 In August 2016, Instagram - a social network bought for $1 billion by Facebook on April 2012 - implemented a feature called "Stories" (Source: Instagram). It allows for users to create a short collage of images and videos that won't appear in their feed and will disappear after 24 hours. It sounds familiar because it is - even more so when a new feature was added to the stories, allowing users to live stream videos.
Despite Snapchat remaining king over the "Stories" formula, the higher user count of Instagram (300 million active daily users against 158 million for Snapchat) lead to a slight decrease in preference.
Facebook's experience with advertising meant they quickly found a way to monetize Instagram's Stories, even just four months after its initial release - having almost double the user count of Snapchat helped.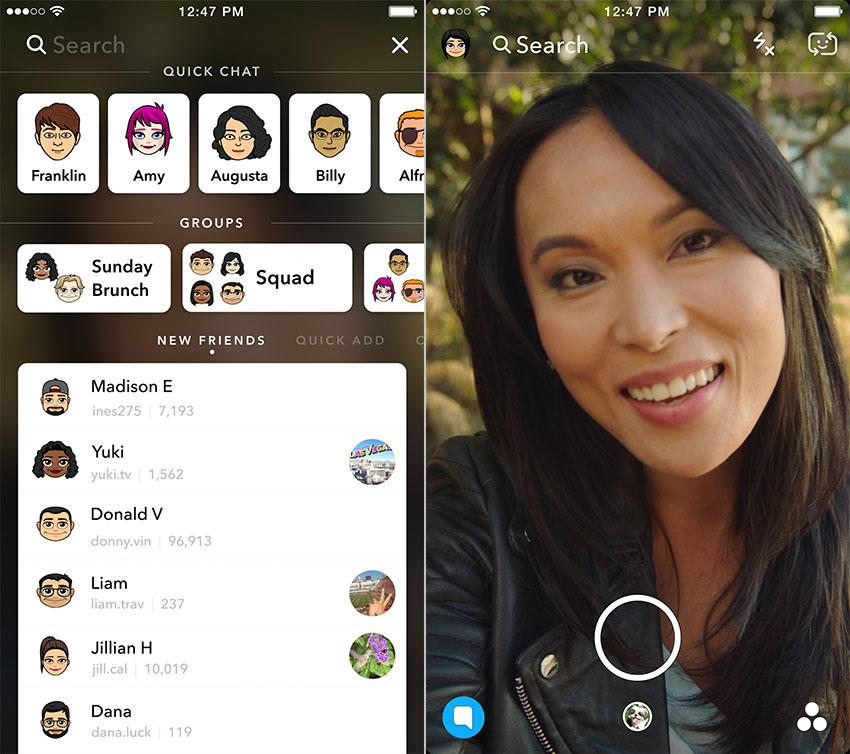 This is one of the main reasons Snapchat was redesigned, with long requested functions being added recently:
Search function - the purpose is to fix some discovery issues and allow for quicker contact management
Better Snapcodes - you could only use Snapcodes to add friends, but now Snapchat allows for website to create Snapcodes that when activated inside the app, will lead the user to an outside link
Group chats - they work exactly like the normal messaging system, meaning all the exchanged messages disappear after 24 hours
Better UI - Snapchat is known for a rather unintuitive and confusing UI, which the new release being deployed aims to fix by presenting a more organized visual design
Snapchat shows that it learned from market demands - the new UI shows a better understanding of their users desires, while satisfying a hunger for monetization.
Should You Invest in Snapchat?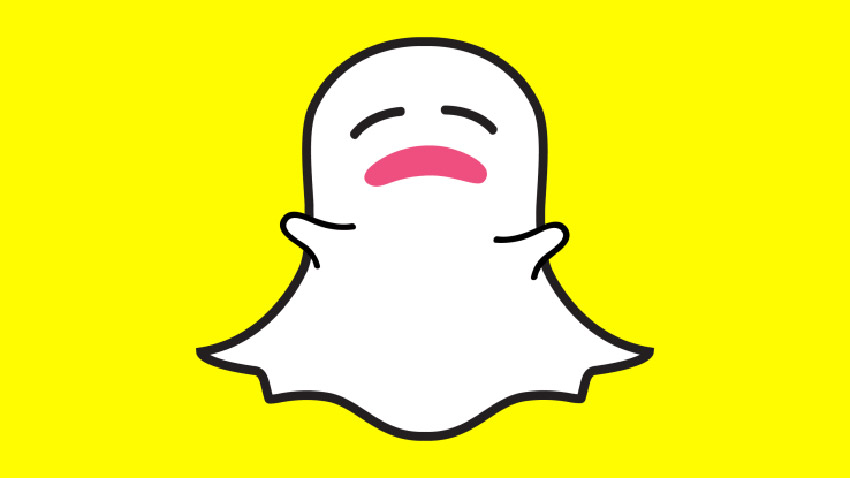 From 2015 to 2016, Snapchat's sale growth rate septupled, making a total of $404.5 million dollars - 600% more than in 2015. (Source: Fortune) The release of Snap's IPO (Initial Public Offering) is the most expensive tech stock to date, with Snap Inc. reportedly looking for $25 billion dollars in valuation.
This exorbitant growth in sales may lead to investors diving right in, but with Snapchat only recently adapting to an ever-changing market, it's safe to assume that growth rate will diminish and stabilize - most of their users are millennials, and their resilience is yet to be tested.
This year's redesign is still being deployed, meaning most users haven't seen it yet. The new design promises to fix many old issues and offer a better interface for personal messaging and advertising alike, which could lead to more investments and a growth in sales, but until the UI is effectively deployed and approved, caution is advised.
There are many advantages to Snapchat as far as investors are concerned, but most of them are justifiably concerned at the incredibly high stakes of investing in an app that has yet to prove its lasting power. The leap of faith involved in the deal is not to be taken lightly.
---
Follow us on Facebook for daily articles about Technology, Business, Money, and much more! Do you use Snapchat or Instagram frequently? How often do you use them for business? Let us know in the comments!