Microsoft has announced that it will be ending support for Windows 7 on January 15th, 2020. The company has already started sending notifications to users around the world. In essence, this means that once the support is ended, users will not be able to get security updates for Window 7. The company also says that it wants users to upgrade to Windows 10. The notifications will be displayed a handful of times in 2019 and will stop once the support is ended. In addition to this, users will have the option to click "Don't remind again" if they don't want to see the notification more than one time.
Windows 10 is the latest OS from Microsoft. The company noted during its release that the goal was to have it installed in 1 billion devices around the world. So far, it's very close to that figure. According to Microsoft, there are at least 800 million devices at the moment running on Windows 10. In addition to this, the OS has also managed to surpass Windows 7 in terms of market share. This was a huge achievement considering how popular Windows 7 is. According to a report by Net Application, at the end of 2018, Windows 10 had been installed in 39.22% of all desktops around the world compared to 36.9% that were still running on Windows 7. It took almost three and a half years for this to happen though.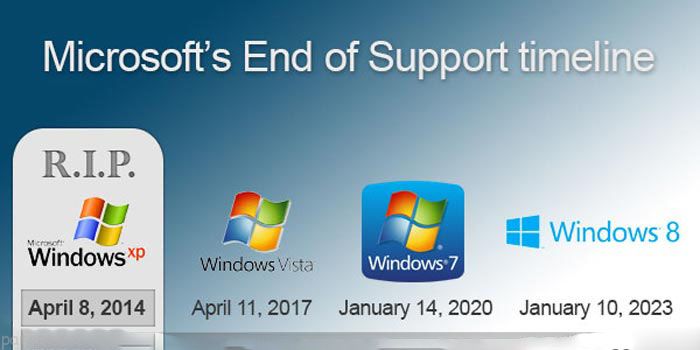 This could suggest that there are many users who still find a lot of value in Windows 7 even though Microsoft has insisted that Windows 10 is a much better upgrade. Windows 7 was launched about 10 years ago. It was an instant hit and Microsoft continued to offer comprehensive support for its users. But it seems this will be coming to an end at the start of next year.
However, it's important to note that Microsoft has already launched an Extended Security Updates program for Windows 7. The program allows people to pay for continued security supports each month for the OS. The challenge for the company now will be to convince deep-pocketed companies to upgrade to Windows 10. After all, Microsoft is only ending security support updates. Some Windows 7 users may actually find the cost of paying for updates lower than a full upgrade to Windows 10. It may also be much more convenient.
There was actually a similar challenge a few years ago when Microsoft was trying to upgrade customers from Windows XP to Windows 7. The company even had to publish a number of white papers comparing the cost of the upgrade and the cost of getting paid security updates. Eventually, the company was able to convince a large number of corporate clients to move to Windows 7 and it may have to do the same for Windows 10. Microsoft insists that Windows 10 offers better features, especially when it comes to security. But some businesses have cited compatibility issues saying that some of their legacy apps don't work on Windows 10. But more and more have been upgrading.